Home > What We're Here For > Alcohol & Drugs
Alcohol & Drugs
We're here to help LGBTQ+ people reduce harm associated with the use of alcohol and other drugs by providing linkage to a range of relevant supportive services.
We work with our clients in a supportive and non-judgmental way, whether their interest is to get support to reduce or stop use, to be able to use in a safer manner or become more informed about drug use.
---
Mild to Wild Sex + Substance Use support group
Mild to Wild, our discussion group about sex and substance use, meets regularly in Buffalo, NY, and Jamestown, NY. Click here to register or email groups@pridecenterwny.org for more information.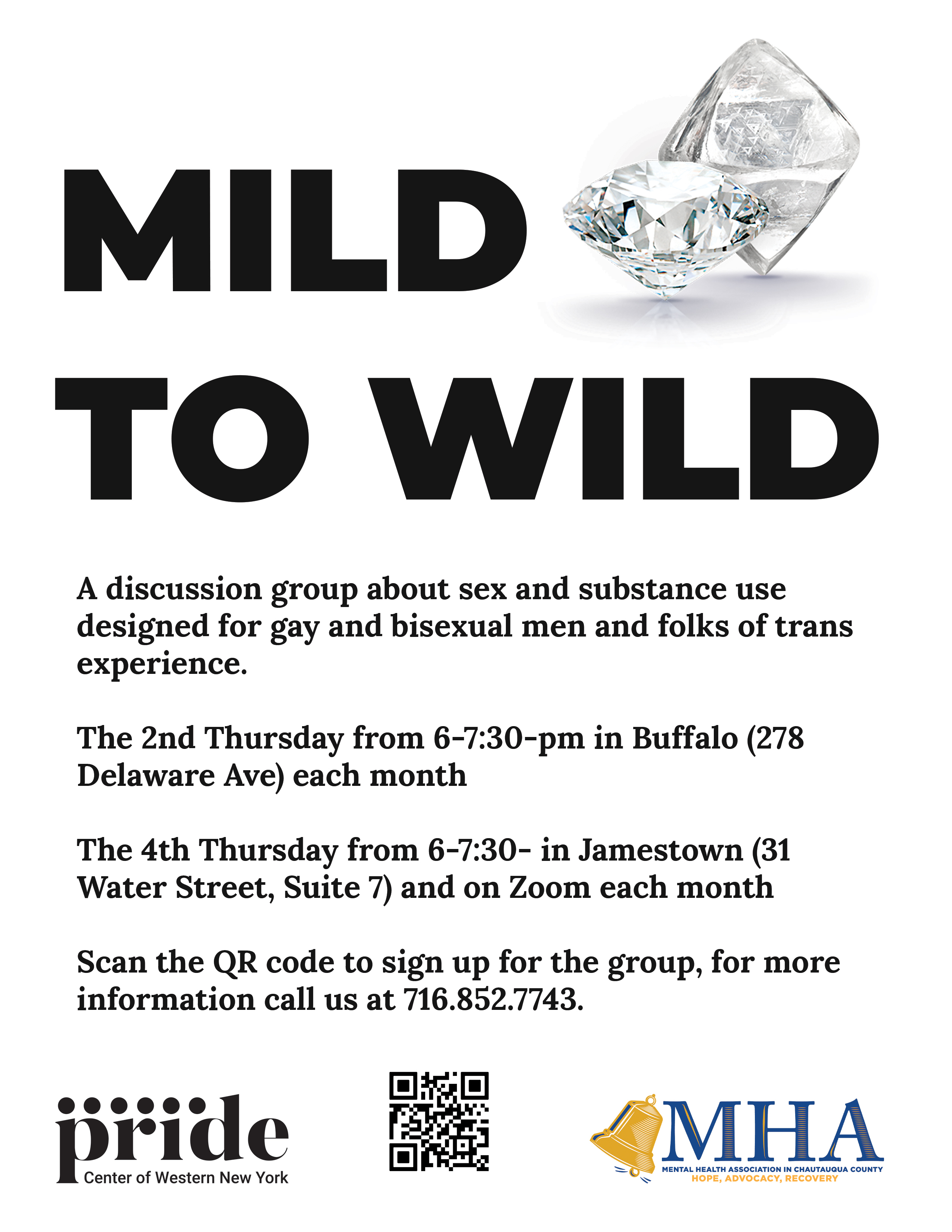 ---
LGBTQ-Affirmative AA Groups
There are two community LGBTQ+ affirmative AA groups. These AA groups are independently organized and facilitated by members of the community.
Contemporary Women and Friends AA
When: Tuesdays
Time: 6:30 - 7:30 p.m.
Where: Central Park United Methodist Church, 216 Beard Ave, Buffalo, NY 14214
Friday Night Lights AA
When: Fridays
Time: 6:30 - 7:30 p.m.
Where: Evergreen Commons 262 Georgia Street, Buffalo, NY 14201
---
Substance User Support at Evergreen Health
As an affiliate of Evergreen Health, we work with Evergreen to offer support to LGBTQ+ individuals who use substances. Our staff can help with linkage to the Harm Reduction Center at
Evergreen Health
.
The Harm Reduction Center can provide:
Access to clean syringes and works
Overdose Prevention Training (Narcan)
One-on-one support
Support Groups
Harm Reduction education for professionals and community groups
The Harm Reduction Center can connect you with:
Medication assisted treatment
Detox and inpatient treatment
Counseling
Case management
Medical care
Other support services
For more information, you can contact the Pride Center at 716-852-7743 or contact Evergreen Health directly at 716-847-2441.
---